Today is FRIDAY! I am linking up with Darci, April, Natasha and Christina for FIVE ON FRIDAY.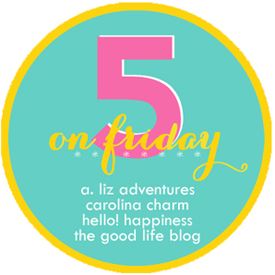 Side note: I have been reading Christina's blog
Carolina Charm
for over a year now, and I just need to comment on how excited I am for her and Matt's pregnancy! Such a cute little family :) Please keep her and baby in your prayers.
1) First of all I had my first ever giveaway on my blog and I am happy to announce that Ellen C. is the winner of the $25 Target gift card! I hope to do another giveaway soon....they are fun!
2) I would just like to say how much I seriously love and adore my niece, Scarlet. She brightens my day, she is just the cutest, sweetest little girl ever. She melts my heart. I can't believe how fast the time has gone and that she is already three!
Hair Train with Scarlet and cousins Aubrey and Angie :)
Bath Time!
Sleeping Beauty :)
3) Still studying away for my NETA group fitness instructor test...it is coming up in a couple of weeks! I really need to get a little more serious and increase my studying time. I always was pretty good at cramming the night before a test in college though ;)
4) Finally got to go ice fishing for the first time this winter. It has been crazy cold here in MN the past couple of weeks. We were out on Clear Lake in Iowa. Tim and I entered to fish in the "Yellow Bass Bonanza" on Clear Lake next weekend so that should be pretty fun!
Doesn't the can of Keystone add a nice touch ;)
5) I would just like to say how proud I am of the North Iowa Bulls hockey team as well as the coaches for their continued success and hard work! Keep it up!